Q1 : What kind of inks do you use for canvas prints?
We use pigmented inks, which not only provide better display permanence than the dye-based inks you get in most inkjet printers, but also have better water-fastness and humidity-fastness. To learn more, read our article about Giclee printing.

Q2 : Can I get a print on canvas without a frame?
Not a problem. We can print out just the canvas and roll it up to send to you. Order online: Canvas print pricing

Q3 : Can I see a preview of the canvas before it is printed?
We can print a 4" x 6" test strip for you to preview. Test strips are free for orders over 40 united inches (length + width of the print you're ordering). For orders under 40 united inches, test strips cost $5.00.

Q4 : What is the difference between thin and thick gallery wraps?
Our thin canvases are mounted on 3/4-inch stretcher bars and are ideal for framing. Our thick gallery wrapped canvases are mounted on thick 1-1/2 inch stretcher bars. Thick gallery wrapped pieces are generally displayed without frames. If they are to be displayed in a frame, our large floating frames are most suitable for these 1-1/2 inch deep canvases.

Q5 : Can you print onto/create a round or circular canvas?
Yes, we can print and gallery wrap round canvases from 18 to 40" diameter with an increment of 2". The pricing will be equal to a square format canvas order on 3/4" spreader bars plus 20%. For example, the pricing for a round 30" diameter canvas gallery wrap will be the same as a 30x30" gallery wrap plus 20% which we will add later. To place an order for a round/circular canvas, please upload your image(s) online and in the order comments section indicate you need a round canvas gallery wrap. The depth for round gallery wraps will be 3/4". Please note minimum diameter we can gallery wrap is 18". Click on this link for more details: Round Canvas Prints

Q6 : Do you do multi-panel canvas prints/frames?
Yes, we do. For Multi-Panel Canvas orders, please contact us to provide details and the original artwork/photo. If you are familiar with photo editing software, you can create different files for each panel and upload them one by one. Otherwise, send us the photo and the details by email, and we will proceed from there.

Q7 : Can you add personalized text on the canvas?
Yes we can. There is an additional design charge for adding text to a canvas. When placing your order, write down the details in the "notes" section and we will send you a draft to review before printing. The charges for text range from $19 to $39.

Q8 : Can I see a sample of what your canvas looks like?
Sure. We are happy to send a sample piece to show off our quality. Please visit sample canvas prints to request one.

Q9 : How do I take care of my Giclée canvas print?
1. Keep your print away from direct sunlight, or intense reflected light from mirrors, glass, etc.
  2. Display your canvas print in a moisture-free environment.
  3. Display your canvas at a safe distance from any sources of direct heat such as a fireplace or radiator.
  4. Run a soft feather duster over the front and top of the piece periodically to remove settled dust.
  5. Avoid using any form of liquid, chemical or spray products to clean your canvas.
  6. For marks on the print, you can use a soft damp cloth to rub very gently over the area affected.
  7. The flexibility of canvas material means that it can sometimes get dimpled, whether from handling or in transit during shipping. To remove these dimples, spray a mist of water on the back of the canvas. Then, either with a finger or paintbrush, gently rub the water into the surface of the canvas. Allow the canvas to dry and tighten to its original tautness.


Q10 : How heavy are the finished products?
Finished 36x24" canvas frames using 3/4" wooden bars will be approximately: 2.5 lb
Finished 36x24" canvas frames using 1-3/8" wooden bars will be approximately: 3.75 lb

More details:
3/4" wooden bars: 0.175 lb/Ft
1-3/8" wooden bars: 0.3 lb/Ft
1x1' Canvas 0.07 lb/SqFt


Q11 : Do you have custom ICC output profiles for each canvas material?
We use EPSON Stylus Pro 9900 and 11880 Printers and Daguerre Hahnemuhle Canvas. Unfortunately, we cannot provide an ICC profile for soft-proof.

Q12 : Will these prints damage my wall?
We use felt or foam "bumpers" on the bottom back corners of each gallery wrapped canvas and metal or wood frame. These protect your walls, keeping the hard edges from ever touching the wall. Order online: Bumpers in bulk

Q13 : What is a Photo Mosaic?
A Photo Mosaic is a group of small pictures (cells or tiles) arranged in such a way to create a larger photo (source). Visit our Photo Mosaic page.

Q14 : Do you offer hanging services?
Unfortunately, we do not offer this type of service.

Q15 : Why would I choose an oval picture frame?
Oval frames have been used, primarily for portraits, for around 200 years. They nicely frame the face or head and torso of the subject, and lessen the white space surrounding them by cropping the corners of the original rectangular image.

Q16 : What printer do you use?
We print on Epson Stylus Pro 11880 Large Format 64" and Epson 9900 44" Stylus Pro printers.

Q17 : What kind of canvas do you use?
We use Hahnemühle Daguerre Or Monet Canvas, Epson PremierArt Water Resistant Canvas or Generations Satin Canvas. Details for Hahnemühle Daguerre Canvas:
# Water Resistant for increased durability
# Highest resolution canvas for outstanding reproduction
# Acid free
# Poly-Cotton
# Bright White 101%, Opacity 98%
# Weight 400 gsm, Thickness 0.56 mm
# Unique texture for true artistic look
# Instant-drying, micro-porous coating
# Stretchable for framing
# Applications: Fine Art Photography, Giclee Reproduction, Portrait Photography, Wedding Photography


Q18 : How should I upload or send my photos if they are larger than 10 MB?
Please use our upload form if the file size in under 16 MB: file uploads
For larger file sizes, you may send a link to your uploaded file on a web/FTP server or through free online services like http://www.yousendit.com/ or http://www.dropbox.com/ You can also use free open source FTP software such as http://filezilla-project.org/
If you are familiar with FTP software, please contact us for our FTP server info.

INSTRUCTIONS:
- Download the Firezilla CLIENT from http://filezilla-project.org/ and install it.
- Once you have installed Firezilla, launch it.
- On the top of the application there will be 3 blank spaces where you will enter the host, password and user name provided.
- Click on the Quickconnect button.
- Once it is connected, you can drag your files to the center/right area* (in green) and drop them to the center/left area (red). *Note that the center/right area shows the files in your computer and you will have to find your files first.
- Wait until your file uploads to our server successfully.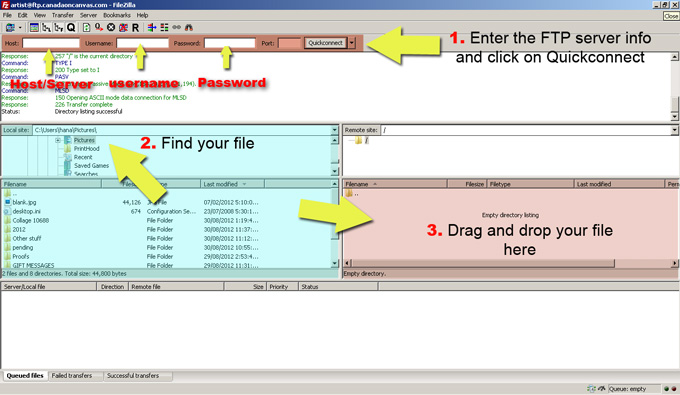 To learn more, see our article all about Sending Large Files.

Q19 : Can I email my image to you as an attachment?
Yes, it is possible to submit images via email. If you choose to submit an image by email, please send only JPEG file formats with a maximum size of 16 MB.

Q20 : What kind of printing process is used to generate the artwork?
We print your picture on the latest in high resolution, large format state-of-the-art Epson printers (models 9900 AND 11880). A recent breakthrough in technology has allowed us to bring you long lasting, vibrant, photo-quality images that are fade-resistant for more than 100 years. Printing details:
Epson fineart Inkjet printer
Water-Resistant Canvas
Epson UltraChrome HDR Ink
11-Color Photo Black, Cyan, Vivid Magenta, Yellow, Light Cyan, Vivid Light Magenta, Light Black, Matte Black, Light Light Black, Orange and Green
Smallest droplet size: 3.5 picoliter
2880 x 1440 dpi print

Q21 : How do I order canvas prints from your site using my photos?
There are two easy ways:
1. Upload your photos online and select a canvas print size.

2. By mail: if you have printed material, like an old black & white photo or a poster, mail it to us and we will scan it, print your canvas, and return the original to you along with your print. Please contact us by email for our mailing address.

Q22 : Can I save my image on a CD or DVD and mail it to you?
Yes, this is probably the best way if it is larger than 20MB. If you are transferring your image(s) to a disc, we recommend uncompressed TIFF file format.

Q23 : What must the minimum resolution of my digital picture or file be, to be printed on canvas?
There is no formula, as maximum print size for a given photo depends on many factors like source (digital camera or scanned file), sharpness, camera lens, file format, compression, photo subject and so on. For example, we have printed 2 MB, 3000x2000 pixel photos at 48"x32" frame size. If you like, you can e-mail us your photo before placing an order. We are happy to consult with you on the best print size for your photo, based on its quality/resolution. Please note: photo subject/style is also a factor to consider. For example, in abstract photos the subject is more important than the resolution and print details, so you can ask for a larger print size.
When printing on canvas, the canvas' texture minimizes pixelations, which also allows us to print a larger image. However, we will not ship an order until we are sure the print quality is acceptable. If we have any concern, we will contact you for a better quality digital file or photo replacement. To learn more, read our article about working with low resolution images.

Q24 : Do I need to register to purchase?
Yes. To register, please visit our registration page for detailed registration information. If you are not yet registered, you will be prompted to complete your billing and shipping information as part of the purchasing process.


Q25 : I have an old photo that I want restored and put on canvas. Can you do that?
Yes, we do offer photo restoration services, along with canvas printing. Your photos can be mailed to our mailing address to be scanned. Please contact us for pricing.

Q26 : What kind of canvas material do you use?
We use Hahnemühle Daguerre Or Monet Canvas, Epson PremierArt Water Resistant Canvas or Generations Satin Canvas. Details for Hahnemühle Daguerre Canvas:
# Water Resistant for increased durability
# Highest resolution canvas for outstanding reproduction
# Acid free
# Poly-Cotton
# Bright White 101%, Opacity 98%
# Weight 400 gsm, Thickness 0.56 mm
# Unique texture for true artistic look
# Instant-drying, micro-porous coating
# Stretchable for framing
# Applications: Fine Art Photography, Giclee Reproduction, Portrait Photography, Wedding Photography


Q27 : Can you stretch and mount canvas prints?
Yes. We use 3/4" deep or 1-3/8" deep stretcher bars. Order oniline: Custom-sized stretcher bar frames. Pre-cut stretcher bars, unassembled. Custom canvas stretching services. To learn more, see our article all about how canvas prints are made.

Q28 : Will you touch up my image at all?
If there are hair, dust marks or scratches on your image, we will contact you to confirm that you want these removed. The same applies to correcting red-eye. Please contact us for prices of other types of touch-ups and restoration.

Q29 : What canvas print sizes do you offer?
We can print up to 64" wide on a 40' roll. If you would like your Canvas Print created in a different size then please contact us for a quotation. We use only fine art printers, inks and canvas.

Q30 : Which file formats are best for canvas prints?
The suitability of the file format really depends on whether you intend to submit your image by email, FTP or by mail. As a general rule, JPEG files are best if submitting by email or uploading, while TIFF files are best if submitting by FTP or on CD or DVD. JPEG files are lossy, meaning that when they compress image data, they throw some of it away. When a JPEG file is uncompressed, it does not always duplicate the original data exactly. TIFF files are lossless, meaning they do not throw away data when compressing. The result is that TIFF files are much larger than JPEG files, but they preserve every pixel that was in the original.

Q31 : Do you have a gallery or a location where I can see examples?
Yes, we do have a good selection of printed samples. If you're in Coquitlam, BC, we'd be happy to meet with you and show you different printed canvas samples.

Q32 : Where can I find pricing information?
Please visit the pricing page for pricing details.

Q33 : What is a 'cookie' and does my computer need to accept them?
Your Internet settings should be set to accept cookies - small pieces of information that are stored on our web server and handed to your browser when you arrive at the site. Cookies allow us to keep track of your preferences and shopping cart. If cookies are disabled, you will not be able to use the shopping cart features of the site. We will NOT use cookies to collect personal data unless such collection has been disclosed to you in advance. Please see our privacy policy for more information about cookies and our use of them.

Q34 : How is the canvas print protected? What finishing method do you use?
For canvas prints we use ClearShield Type C Coating as a protective finish. Type C is formulated to be used over water-resistant canvas printed with pigmented inks. While the Epson UltraChrome K3 Inks are already UV resistant, the coating has some additional UV buffers as well, and when applied to the print, the finish can further protect it from scratching, finger prints, or smudging. Order online: Clearshield coatings

Q35 : How do I remove my email address from your mailing list?
Just log in to your account at My Account. You can unsubscribe from our mailing list by clicking on the "Edit Registration" link.

Q36 : What is so special about a canvas print?
The natural texture, depth and brilliance of a canvas print is unique. Unlike a regular print on flat paper, the textured surface of canvas reflects light in different directions, giving it a wonderful appearance of depth. Canvas doesn't need to be framed with protective glass, so the image can be seen clearly without bothersome glare. Canvas prints are also tougher and far more durable than paper prints. To learn more, see our Canvas Prints How It Works page.

Q37 : What payment methods do you accept?
We accept VISA, MasterCard, American Express, Debit Cards, PayPal and personal cheques. For details visit Payment Methods.

Q38 : Is there a minimum quantity that I have to order?
No. We will take as much care with your single print of a family portrait or favourite image as we do with our larger volume orders.

Q39 : What are the copyright restrictions on printing?
You can have any image printed on canvas provided you own the copyright for the image, have written permission from the owner of the copyright, or it is in the public domain. It is up to you as the purchaser of the image to ensure you have the proper legal permissions.

Q40 : Are there any setup fees?
No. You are charged when you complete the checkout from your shopping cart, and not before.

Q41 : What kind of stretcher bars do you use?
We use 3/4", 1-1/2", 2-1/2" or 3" depth wooden stretcher bars. To select the 2-1/2" and 3" bars you need to add your photo order to the shopping cart first, then select 'SB238: Thick Wrap 2-1/2"' from the drop-down menu under 'Framing'. For 3/4" or 1-1/2" bars, you can make the selection after uploading your photo, when selecting your print size. Order online: Pre-cut stretcher bars, unassembled

Custom-made stretcher bar frames

Q42 : Do you offer volume discounts?
Yes, please visit Pricing & Volume Discounts for more information.

Q43 : How long will it take for my canvas art to be printed?
It takes about 2 to 4 business days after receiving your order confirmation for us to print, mount and finish your canvas print.

Q44 : What is the resolution of your printer?
Our Epson printers use 2880 DPI print heads to deliver extremely fine detail.

Q45 : What is gallery wrap?
Gallery wrap is the process of wrapping the printed canvas around a custom-made wooden stretcher bar frame for a clean, modern look. The canvas is wrapped around and secured to the stretcher bar frame at the back of the piece, so that staples and other attachments are not visible from the front or side. Floater frames can also be used with gallery wraps to add an extra element of sophistication. View an example of a Giclée canvas.

Q46 : Adobe RGB or CMYK?
We accept Adobe RGB 1998 or sRGB files instead of CMYK (Cyan, Magenta, Yellow, Black) because all digital files are captured via native RGB devices. To learn more about color spaces like sRGB, and color models, like RGB, read our article Understanding Color Models and Spaces.

Q47 : Will the colours on my canvas print be the same as what I see on my monitor?
We do our best, but unfortunately we can not guarantee an exact color match as on-screen colors will vary depending on your monitor settings. However, if you are able to provide us with an original, we can guarantee a minimum 90% color match.

Q48 : Do you only print on canvas?
No, we can print to fine art paper and photo papers as well. Our Fine Art Prints use archival inks and high quality papers, just like our canvas.

Q49 : I don't see my question here!
Please email us and we'll answer your enquiry as quickly as possible.